Registered nurses Irene Jadge and Janice Stauffer, members of the Danbury (Conn.) Nurses' Union, traveled to Washington, D.C., on Jan. 22 to speak out against a Republican proposal to redefine who qualifies as a full-time worker under the Affordable Care Act.
Legislation that would allow employers to cut workers' hours to just below 40 per week to avoid providing them with health insurance was passed earlier in January by the House of Representatives. The Senate Committee on Health, Education, Labor and Pensions held a hearing on the matter titled "Examining Job-Based Health Insurance and Defining Full-Time Work." Prior to the hearing, Jadge and Stauffer, who both work in the intensive care unit at Danbury Hospital, Western Connecticut Health Network, had a chance to meet with U.S. Sen. Christopher Murphy (D-Conn.), a member of the committee. They shared their concern about losing healthcare benefits should the 40-hour bill pass in the Senate.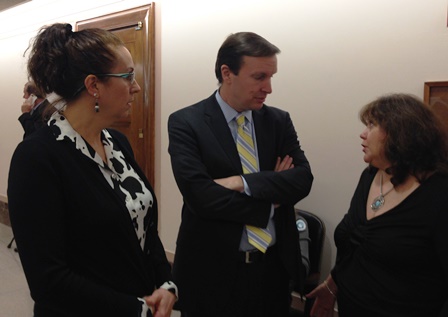 A change to a 40-hour workweek would be a hardship on both nurses, who now work 12-hour shifts three days a week for a total of 36 hours and are considered full-time employees. Under the current contract, they are entitled to full-time benefits because they are scheduled for more than 32 hours per week. If the industry standard were to shift to 40 hours, the hospital could reallocate staffing hours and possibly not offer benefits to employees who have traditionally been considered full-time.
Both women say their families depend on their employer-provided medical plan for care. If the measure passes and the nurses decide not to pick up a shift to cover the hours, they would see their healthcare costs more than double. "I pay $5,000 to cover my family of four, says Jadge. "I would have to pay $10,000 or more if I am not considered full time."
And the nurses say it's not as simple as picking up another shift, as one Republican member of the HELP Committee suggested during the hearing. "What about our families?" Jadge asks. "I can't work overtime at my own hospital, so it would mean more time away from home to travel to another hospital."
Jadge and Stauffer wouldn't be the only ones affected. Nearly 80 percent of the nurses and health professionals at their hospital work 12-hour shifts, as is the case with many others nationwide, Stauffer says. "You would have to restructure the whole healthcare industry if this takes place."
During the hearing, Sen. Murphy noted that "the bill actually creates the problem it pretends to solve. If passed into law, this plan would make it harder for workers to gain health coverage through their jobs, increase the deficit by $50 billion and cause half-a-million Americans to go uninsured." Murphy also took a moment to acknowledge Stauffer and Jadge, saying that "if this bill passed, more than a million Americans with demanding schedules like Janice and Irene would be in jeopardy of losing access to the healthcare they count on and have earned."
"Being able to come to Washington and meet with our senator and be at the hearing was an adrenaline rush," says Stauffer. "I feel like we really can make a difference."
[Adrienne Coles/AFT photo]