September is Sepsis Awareness Month, and as part of a campaign to educate people about the condition, the Rory Staunton Foundation held its second annual National Forum in Washington, D.C., Sept. 16. Ciaran and Orlaith Staunton started the foundation after their 12-year-old son, Rory, died from septic shock. The organization's mission is to raise awareness of sepsis, a life-threatening medical condition that arises when the body's escalating attempt to fight an infection fails.
"Our first initiative is education and awareness," said Ciaran Staunton, who noted that more than 250,000 Americans die of sepsis each year but the government, and the Centers for Disease Control and Prevention in particular, has yet to allocate resources for prevention. The foundation's efforts are focused on educating health professionals about the signs, symptoms and best practices in treatment, as well as making the signs of sepsis as common to the public as those of stroke and heart attack. Ciaran Staunton pointed out that sepsis is the 10th-leading cause of death in the United States. and kills more people each year than AIDS, breast cancer and prostate cancer combined, but most of the public doesn't know about it.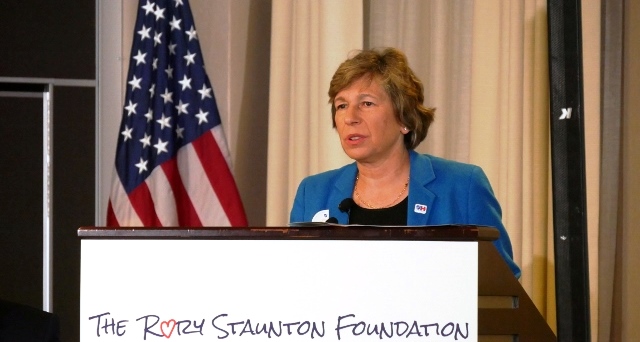 AFT President Randi Weingarten, who took part in the event, let the crowd know that the AFT—which co-sponsored the forum— is working to build awareness of sepsis. "We have to make sure that there is more awareness in every place where we are—whether it's in prekindergarten-12 education or in states where we represent the majority of RNs who are organized. We have to raise the issue, and we have to talk about it."
To increase education, the foundation is promoting a teaching module that is being piloted in several schools in New York. "The modules explain what everyone needs to know when it comes to the signs of sepsis," said Ciaran Staunton. The foundation is also focused on getting legislation that would require states to mandate sepsis protocols in hospitals. The protocols, known as "Rory's Regulations," mandate that all hospitals in a state must adopt best practices for early identification and treatment because early detection is one of the most important factors in treating and curing sepsis. The foundation was successful in getting regulations passed in New York in 2013, and it hopes to implement these regulations in every state by 2020.
"The United Federation of Teachers helped lead the way to codify Rory's Regulations in New York. And our members across the country will continue to advance sepsis safeguards for patients and communities," said Weingarten. "Our members understand that investing in high-quality care and safe staffing go hand in hand with preventing deadly infections like those that can cause sepsis. Through our Patients Before Profits campaign, AFT nurses and health professionals are standing up for high-quality, affordable, accessible care in our communities, including lifesaving solutions to prevent and treat sepsis."
As a union of nurses & teachers it's our work to raise awareness of life threatening signs of #sepsis #LetsSaveLives pic.twitter.com/ezb2Gi18pE

— Randi Weingarten (@rweingarten) September 16, 2015
Sen. Charles Schumer (D-N.Y.), who issued a joint statement with the AFT and also took part in the event, said that "sepsis costs our healthcare system billions of dollars each year and takes an unspeakable toll on American families affected by it. We have to do more." He noted that, although his home state has the protections of Rory's Regulations, "it's time we brought these commonsense protections—like reporting, training and evidence-based screening and treatment protocols—to patients across the country. We owe it to all the families like Rory's to raise awareness and advance solutions."
[Adrienne Coles]